Cabrits Resort Kempinski Dominica Advancing Ahead of Schedule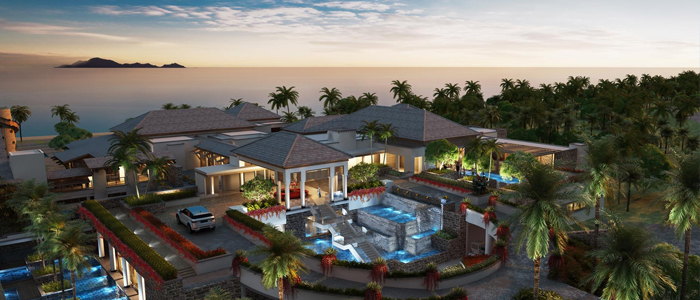 The Cabrits Resort Kempinski in Dominica is the first Government-approved real estate project under the island's Citizenship-by-Investment program, and the most advanced of all such projects in the country.
Construction work began in June last year, with completion of all the structural fabric of the buildings due in the next few weeks. More than 200 workers are on site daily, with over 50 per cent of them coming from the local community.
"We are making excellent progress," said Mohammed Asaria, Vice Chairman of Range Developments. "All the buildings have been set out, including the main building with the public areas and the nine accommodation units."
It will be run by Europe's oldest luxury hotel group, Kempinski Hotels, which was founded in 1897 and manages a portfolio of 75 five-star hotels in 31 countries, including the Grand Kempinski Hotel Shanghai and the Hotel Kempinski Beijing.
This is Range Development's second project in the Caribbean, following the completion and opening of the Park Hyatt Saint Kitts on November 1. The Park Hyatt Saint Kitts is set in Banana Bay overlooking Nevis. The project has been praised by the Prime Minister of Saint Kitts & Nevis, Timothy Harris, as fundamental to the growth of tourism in the country.
Prime Minister of Saint Lucia, Allen Chastanet, and other members of the cabinet joined the principals of Range Developments and The Ritz-Carlton to commemorate the signing of an agreement to build The Ritz-Carlton, St. Lucia. This will be Range Development's third major project in the Caribbean.
The Honourable Prime Minister Allen Chastanet noted that this was an historic and significant event in the continuing development of tourism on the island. "We are delighted to see this first step in what will be a major project on the southern tip of the island," said PM Chastanet. "We have maintained that our focus is on enhancing our tourism offerings and we are committed to ensuring sustainable investment and employment in Saint Lucia and particularly in the south. I am elated that we have such eminent partners in this project in what is surely going to be one of the best resorts in the Caribbean."
Source: Investment Immigration Insider